DCs Legends of Tomorrow [Sezon 01]
Data dodania:
Marzec 8, 2017
Dodane przez:
kakarotto5555
Kategoria: Seriale Zagraniczne
Ostatnia Aktualizacja: Marzec 8, 2017
Komentarzy: 0
Ocen ten Torrent:
INFO O TORRENCIE

Gatunek: Sci-Fi, Akcja
Produkcja: USA
Stacja telewizyjna: The CW
Data premiery serialu: 22.01.2016 – Świat
Czas trwania odcinka około 44 min.
Twórcy: Greg Berlanti, Andrew Kreisberg, Marc Guggenheim

Gdy nieśmiertelny tyran Vandal Savage (Casper Crump) zabija żonę i syna Ripa Huntera (Arthur Darvill), mężczyzna postanawia zapobiec tragicznym wydarzeniom, cofając się w czasie. Rip należy do organizacji Time Masters, która dba o porządek wydarzeń, dzięki czemu podróżuje w czasie i przestrzeni. Mężczyzna organizuje w roku 2016 grupę złożoną z bohaterów i złoczyńców, którzy mają zapobiec opanowaniu świata przez Vandala.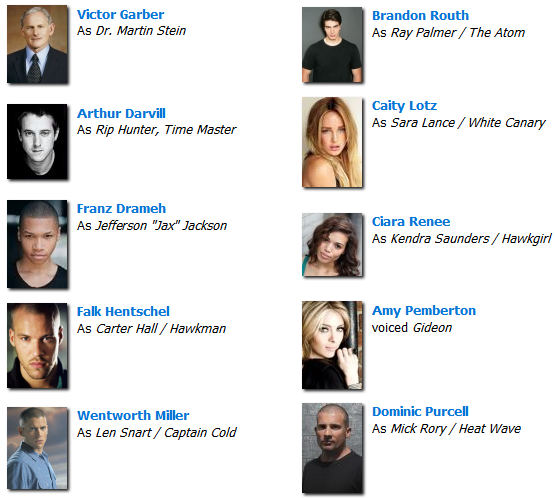 Format: AVI at 1.703 kb/s
Length: 542 MiB for 44 min 28s 332 ms
Video #0: xvid at 1.500 kb/s
Aspect: 720 x 400 (1.783) at 23.976 fps
Audio #0: AC-3 at 192 kb/s
INFOs: 2 kanały, 48,0 kHz
LISTA PLIKÓW
| Nazwa: | Rozmiar: |
| --- | --- |
| [FileTracker.pl]DCs Legends of Tomorrow S01[wilu75]/DC.s.Legends.of.Tomorrow.S01E01.Pilot.Part.1.PL.480p.WEB-DL.AC3.2.0.XviD-Ralf.avi | 541.73 MB |
| [FileTracker.pl]DCs Legends of Tomorrow S01[wilu75]/DC.s.Legends.of.Tomorrow.S01E02.Pilot.Part.2.PL.480p.WEB-DL.AC3.2.0.XviD-Ralf.avi | 1.03 GB |
| [FileTracker.pl]DCs Legends of Tomorrow S01[wilu75]/DC.s.Legends.of.Tomorrow.S01E03.Blood.Ties.PL.480p.WEB.DL.AC3.2.0.XviD.Ralf.avi | 1.54 GB |
| [FileTracker.pl]DCs Legends of Tomorrow S01[wilu75]/DC.s.Legends.of.Tomorrow.S01E04.White.Knights.PL.480p.WEB.DL.AC3.2.0.XviD.Ralf.avi | 2.04 GB |
| [FileTracker.pl]DCs Legends of Tomorrow S01[wilu75]/DC.s.Legends.of.Tomorrow.S01E05.Fail.Safe.PL.480p.WEB.DL.AC3.2.0.XviD.Ralf.avi | 2.55 GB |
| [FileTracker.pl]DCs Legends of Tomorrow S01[wilu75]/DC.s.Legends.of.Tomorrow.S01E06.Star.City.2046.PL.480p.WEB.DL.AC3.2.0.XviD.Ralf.avi | 3.05 GB |
| [FileTracker.pl]DCs Legends of Tomorrow S01[wilu75]/DCs.Legends.of.Tomorrow.S01E07.Marooned.PL.480p.WEB.DL.AC3.2.0.XviD.Ralf.avi | 3.56 GB |
| [FileTracker.pl]DCs Legends of Tomorrow S01[wilu75]/DCs.Legends.of.Tomorrow.S01E08.Night.of.the.Hawk.PL.480p.WEB.DL.AC3.2.0.XviD.Ralf.avi | 4.08 GB |
| [FileTracker.pl]DCs Legends of Tomorrow S01[wilu75]/DCs.Legends.of.Tomorrow.S01E09.Left.Behind.PL.480p.WEB.DL.AC3.2.0.XviD.Ralf.avi | 4.58 GB |
| [FileTracker.pl]DCs Legends of Tomorrow S01[wilu75]/DCs.Legends.of.Tomorrow.S01E10.Progeny.PL.480p.WEB.DL.AC3.2.0.XviD.Ralf.avi | 5.1 GB |
| [FileTracker.pl]DCs Legends of Tomorrow S01[wilu75]/DCs.Legends.of.Tomorrow.S01E11.The.Magnificent.Eight.PL.480p.WEB.DL.AC3.2.0.XviD.Ralf.avi | 5.65 GB |
| [FileTracker.pl]DCs Legends of Tomorrow S01[wilu75]/DCs.Legends.of.Tomorrow.S01E12.Last.Refuge.PL.480p.WEB.DL.AC3.2.0.XviD.Ralf.avi | 6.21 GB |
| [FileTracker.pl]DCs Legends of Tomorrow S01[wilu75]/DCs.Legends.of.Tomorrow.S01E13.Leviathan.PL.480p.WEB.DL.REPACK.AC3.2.0.XviD.Ralf.avi | 6.77 GB |
| [FileTracker.pl]DCs Legends of Tomorrow S01[wilu75]/DCs.Legends.of.Tomorrow.S01E14.River.of.Time.PL.480p.WEB.DL.AC3.2.0.XviD.Ralf.avi | 7.33 GB |
| [FileTracker.pl]DCs Legends of Tomorrow S01[wilu75]/DCs.Legends.of.Tomorrow.S01E15.Destiny.PL.480p.WEB-DL.AC3.2.0.XviD-Ralf.avi | 7.88 GB |
| [FileTracker.pl]DCs Legends of Tomorrow S01[wilu75]/DCs.Legends.of.Tomorrow.S01E16.Legendary.FiNAL.PL.480p.WEB.DL.AC3.2.0.XviD.Ralf.avi | 8.46 GB |
| [FileTracker.pl]DCs Legends of Tomorrow S01[wilu75]/Torrent downloaded from FileTracker.pl.txt | 8.46 GB |
| [FileTracker.pl]DCs Legends of Tomorrow S01[wilu75]/Up by wilu75.gif | 8.46 GB |
| [FileTracker.pl]DCs Legends of Tomorrow S01[wilu75]/Uwaga ważne,ZOBACZ NAS!!.jpg | 8.46 GB |
| [FileTracker.pl]DCs Legends of Tomorrow S01[wilu75]/Wilu75 zaprasza-KLIK.url | 8.46 GB |